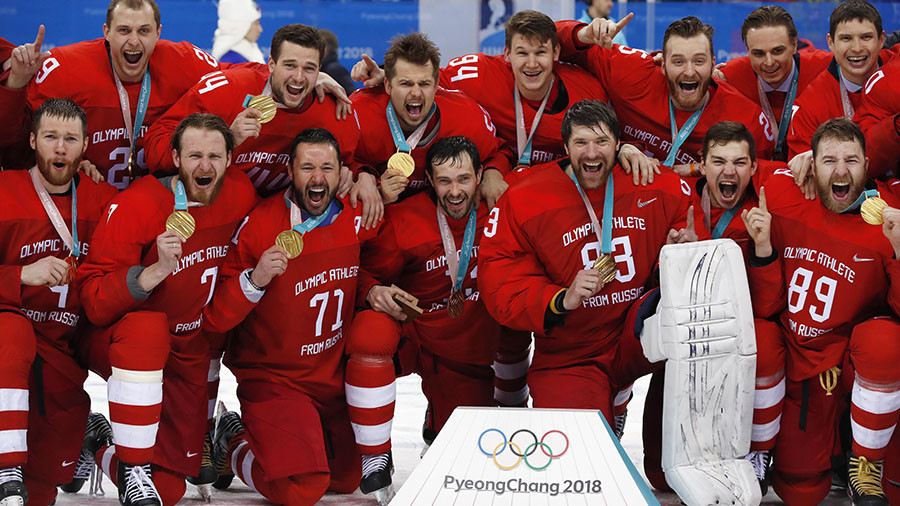 After failing to medal four years ago at home in Sochi, the big Red Machine finally won their first gold medal since 1992 over Germany last night. The Olympic Athletes From Russia, as they were so eloquently named by the IOC, entered the game having out-scored their opposition 14-5 in the group stage and then 9-1 in the playoffs.

Heading into the tournament, Russia and Canada were expected to meet for gold, instead it was Germany who had shocked the hockey world by sending Canada to their first Bronze medal game since Nagano. Despite their impressive win, few expected much from the Germans against the juggernaut that was Russia (for once) who were held to just a 1-0 lead heading into the second period.
Their tight play continued and would eventually be rewarded when Felix Schutz harmless shot ricocheted off Vasily Koshechkin and into the net midway through the second. The game would continue to sway back and forth for the rest of the period as Germany was clearly not going to lay down.
Late in the third period it looked like Russia finally found their breakthrough when Nikita Gusev went top shelf to regain the lead. 10 seconds later, Germany had other ideas. Dominik Kahun responded instantly to square things up and it looked like a German upset was brewing. Three minutes later Jonas Müller gave Germany the lead with just a few minutes left in the game to send their bench and crowd into pandaemonium. It was classic Russia at its finest.
What went from joy turned into disbelief and they looked all but dead. A late penalty gave Germany the man advantage with just two minutes to go. With Koshechkin pulled, Russia somehow found the equalizer short handed. Gusev again with a one-handed back-hand to tie things up.
The game would head to overtime where a high-sticking against Germany would set up Kirill Kaprizov's winner to erase what would have surely been the greatest upset since the 1980 Miracle on Ice. Finally, Russia got their gold.
Generations of Russian hockey fans have been waiting for this moment which might never come again but for once the team delivered from start to finish. With the win, Pavel Datsyuk joined the exclusive triple gold club having won gold at the Worlds and Olympics as well as a Stanley Cup.